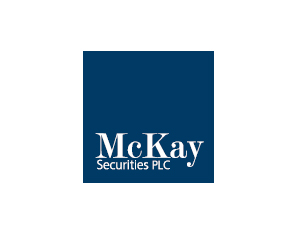 McKay Securities (LON:MCKS)'s stock had its "add" rating reiterated by research analysts at Peel Hunt in a research report issued on Tuesday, December 3rd, ThisIsMoney.Co.Uk reports.
MCKS stock opened at GBX 250 ($3.29) on Tuesday. The company has a debt-to-equity ratio of 55.26, a quick ratio of 0.49 and a current ratio of 6.56. McKay Securities has a 52 week low of GBX 215 ($2.83) and a 52 week high of GBX 265 ($3.49). The firm has a market cap of $235.66 million and a P/E ratio of 19.69. The firm's fifty day moving average is GBX 240.66 and its 200 day moving average is GBX 231.80.
McKay Securities (LON:MCKS) last posted its quarterly earnings results on Monday, November 18th. The real estate investment trust reported GBX 5.39 ($0.07) EPS for the quarter, topping the Thomson Reuters' consensus estimate of GBX 4.70 ($0.06) by GBX 0.69 ($0.01). As a group, analysts forecast that McKay Securities will post 950.0000424 EPS for the current year.
McKay Securities Company Profile
McKay Securities PLC is a commercial property investment company with Real Estate Investment Trust (REIT) status, listed on the main market of the London Stock Exchange. It specialises in the development and refurbishment of good quality office and industrial buildings within established and proven markets of central London and South East England.
Further Reading: Trading Penny Stocks